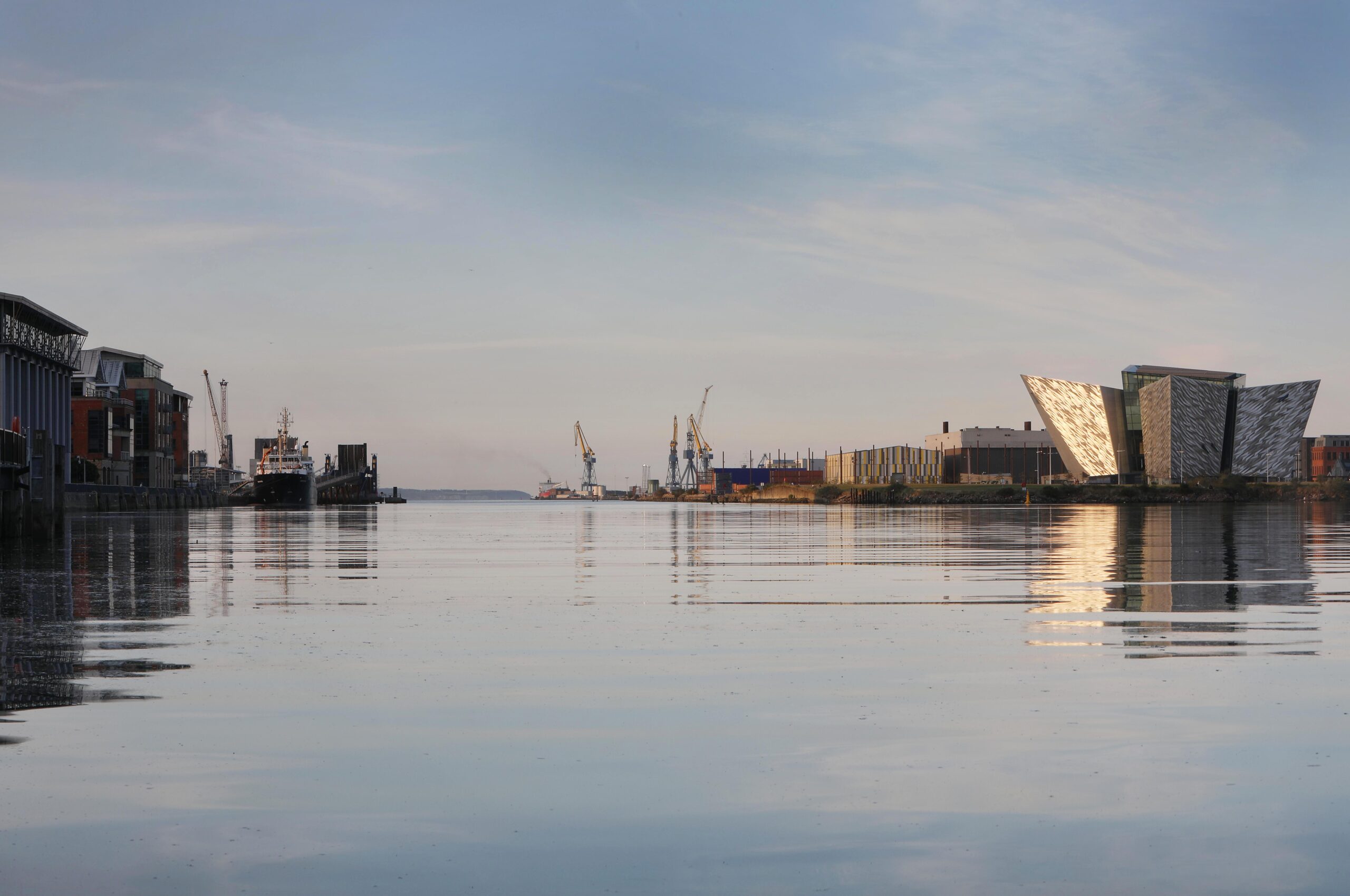 One of Belfast's key strengths is that it is a waterfront city. The expanding waterfront area and it's commercial, residential, tourism and leisure developments will play a key role in fulfilling the city's aspirations for economic growth, quality city living experiences, sustainable transport, connectivity, and wellbeing. This has been recognised in Belfast's Bolder Vision document, which highlights 'Embracing the River Lagan and Waterfront' as one of four key moves.
In response to Belfast's Bolder Vision document, a Belfast Waterfront Task Group has been established to scope how the waterfront can fully realise its potential as a connected, vibrant corridor linking to and with key destinations, neighbourhood communities and city centre. A key requirement is an agreed place-making Framework for the city's waterfront promenade. Currently the area falls under the responsibility of several landowners and developers, including Belfast Harbour, Titanic Quarter and Department for Communities, working to different masterplans and timescales.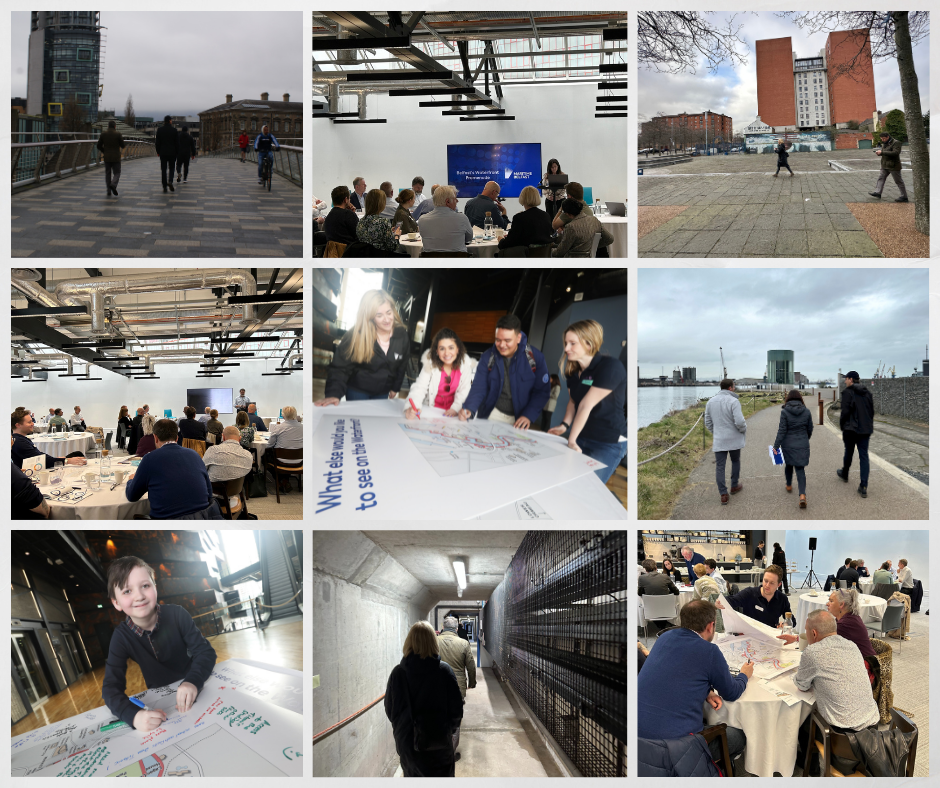 The Waterfront Task Group includes Maritime Belfast Trust, Belfast City Council, Belfast Harbour, Titanic Quarter Limited, Department for Communities, Department for Infrastructure, Department for Economy, Department for Agriculture, Environment and Rural Affairs, Tourism NI and Innovation Belfast. The Task Group is chaired by the Chief Executive of Belfast City Council.
Waterfront Promenade Framework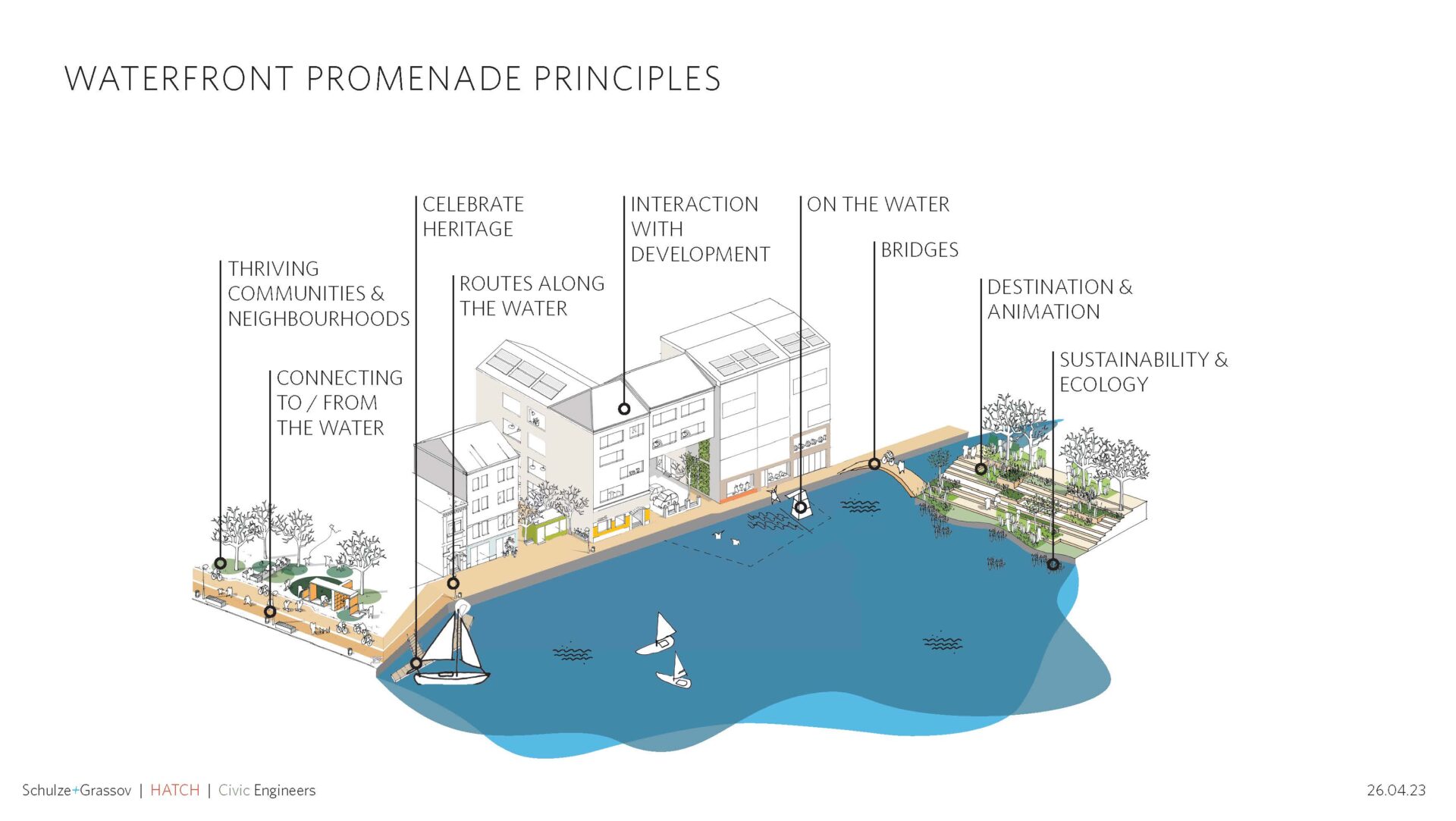 The aim: To develop a strategic framework which focuses on enabling a promenade along the waterfront on both sides of the water and across the water, that encourages usage by local residents and visitors alike, engendering vibrancy and vitality. We envisage this entailing consideration of appropriate adjustments to all existing proposals as expressed in masterplan form or in planning applications and recommending additional interventions that attract activity and use of the waterfront, thereby achieving the ambition set by the Bolder Vision.
At the end of 2022, we put the waterfront promenade framework out to tender for placemaking companies to respond to, and had some amazing submissions from companies across the UK and Europe. The tender document identified nine key principles as best practice for successful waterfront destinations as detailed in the illustration – from celebrating local heritage, to encouraging activation on the water and on the ground floor of new developments.
The Geographical Area: The scope proposed for the framework study has a core focus on the city centre waterfront zone from Albert Bridge to Thompson Dock on County Down side and Sailortown on County Antrim side (or as far North towards the Victoria Channel which is publicly accessible on foot), incorporating a core zone of 20m from the water's edge inland. It will be important to address how and where the core area connects with neighbourhood communities (including Sailortown, Ballymacarrett, Short Strand, Markets and Lower Ormeau), city centre, Innovation District as well as the city's current and emerging greenways, including Connswater Greenway, Lagan Towpath and North Foreshore, and therefore a wider area of connectivity must be considered.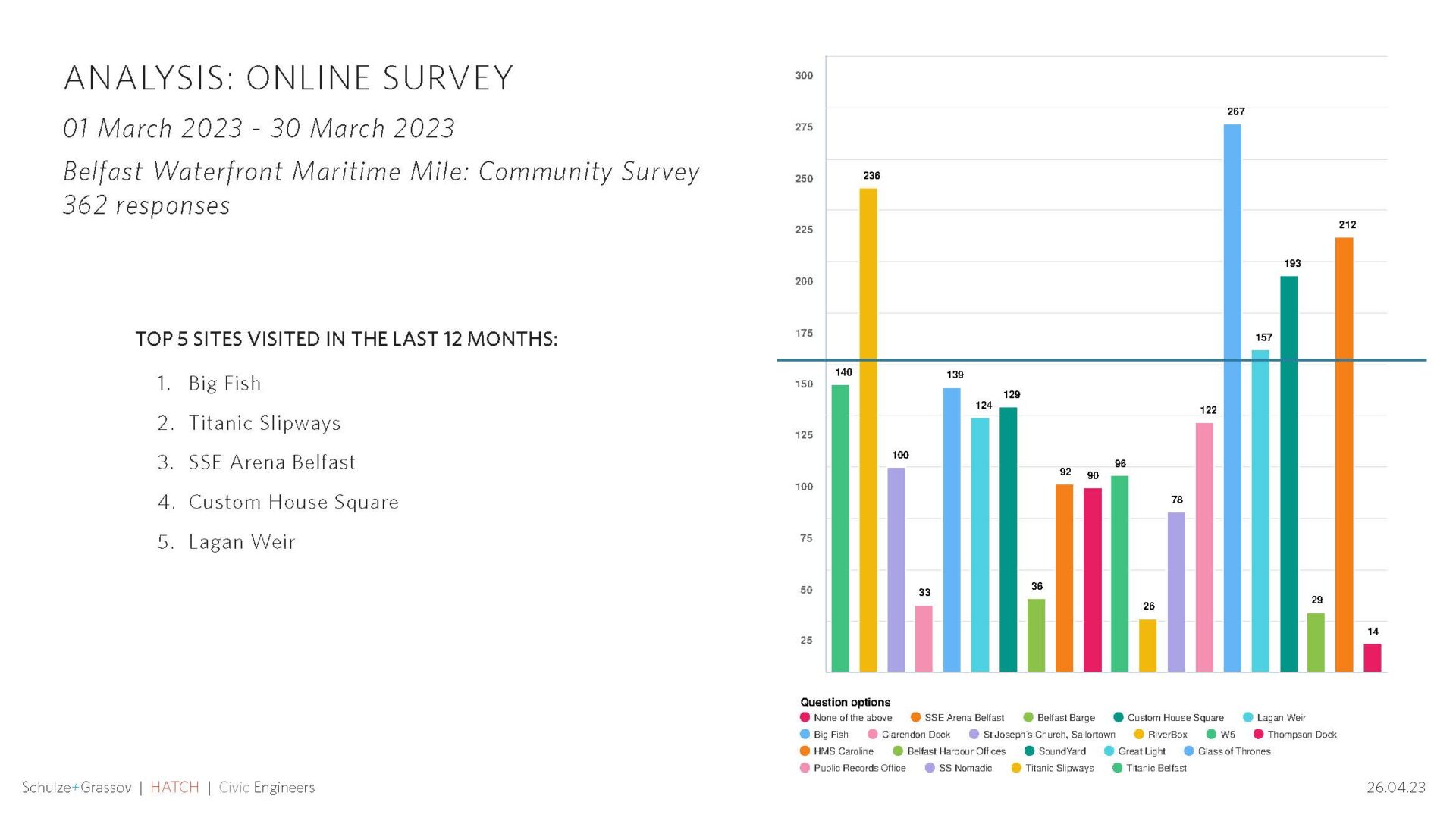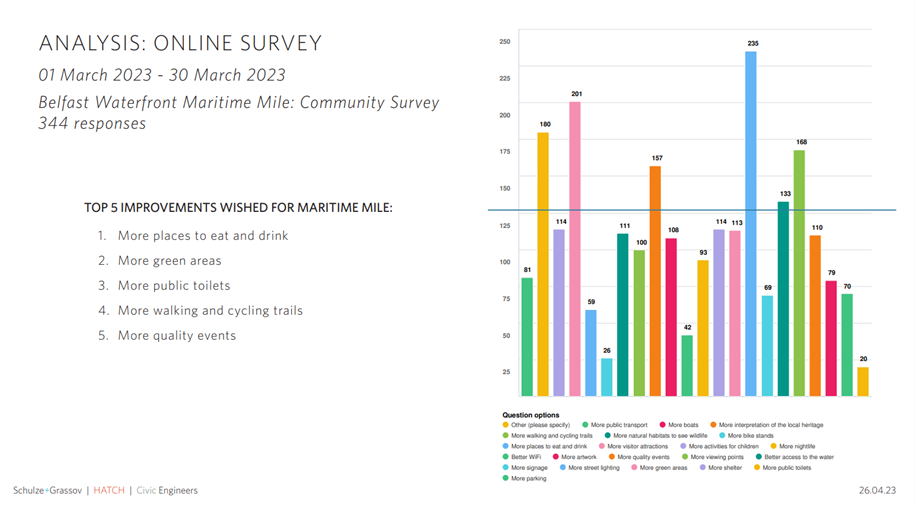 Schulze + Grassov, an urban design agency from Copenhagen were the successful company, and they have assembled a multidisciplinary team consisting of civil engineers Civic and socio-economists HATCH to look in detail at the Belfast waterfront area. Over the first half of 2023 they have carried out site visits, held stakeholder engagement workshops and meetings, and completed a deep dive into all the masterplans, strategies and reports on both Belfast and our waterfront area. In conjunction with our Hub-In project we also undertook a community survey, asking hundreds of local people about what they liked or wanted to see on the waterfront. The top 5 improvements focused on more places to eat, more green areas and public toilets, walking and cycling trails, and more quality events. The survey also revealed the Big Fish or Salmon of Knowledge is the number one visited site on the Maritime Mile, with more than 70% of respondents visiting it in the last year.
For the Schulze + Grassov team the unique challenges and opportunities presented by Belfast have been a key consideration, as well as the sheer scale of our waterfront area – Belfast has around 5,700m of promenade, see diagram below. The S+G team have also separated our waterfront into distinct character areas, from Sailortown up to the Thompson Dock, and begun looking at interventions based on whether those areas are urban with a hard shoreline and higher building density, maritime – with interest specific attractions and a mix of hard and soft shoreline, or whether they are natural with a soft shoreline and recreation attractions.  We're really excited to see the final framework come together later this year.