Born on the 1st March 1875, the only son of Dr. John and Elizabeth Simpson, Dr John 'Jack' Edward Simpson is remembered for being the assistant surgeon on RMS Titanic.
This post was researched and written by Jordan Deering, a Queens University Belfast Masters student who completed a placement with Maritime Belfast.
Growing up at 76 Pakenham Place, Dublin Road, Belfast with his five sisters, Lizette, Caroline, Charlotte, Flora, and Winifred, the only son John attended the Royal Belfast Academical Institution, RBAI. At eighteen years of age, he entered the Belfast College of the Queen's University of Ireland, to study medicine. Having left in the middle of his course due to what is now believed to be for medical reasons, Simpson returned to qualify in 1903. He then went on to sail with Pacific and Orient (P and O) shipping line before marrying Annie Peters in 1905. Together they had one son, John Ralph Peters Simpson, who was born in 1907. Whilst living in London, Simpson practiced as a General Practitioner. He was also enlisted in the Territorial Army Royal Army Medical Corp. By 1911, he had left general practice and moved to Liverpool, joining White Star Line as the Assistant surgeon on the RMS Olympic. Whilst on the Olympic, Simpson was the assistant to an Irish doctor from Tralee; William Francis Norman O'Loughlin, and in 1912, both O'Loughlin and Simpson transferred to work on RMS Titanic.
Within the interactive galleries of Titanic Belfast, a letter written to Elizabeth Simpson from her son is on display. The letter is dated 11th April 1912, and is believed to be the last ever letter written by Dr Simpson whilst on board the RMS Titanic before it sank 4 days later. On this day the letter was dated, Titanic stopped in Queenstown, Ireland. This was her last port of call before sinking and the letter is believed to have come ashore in one of the tenders.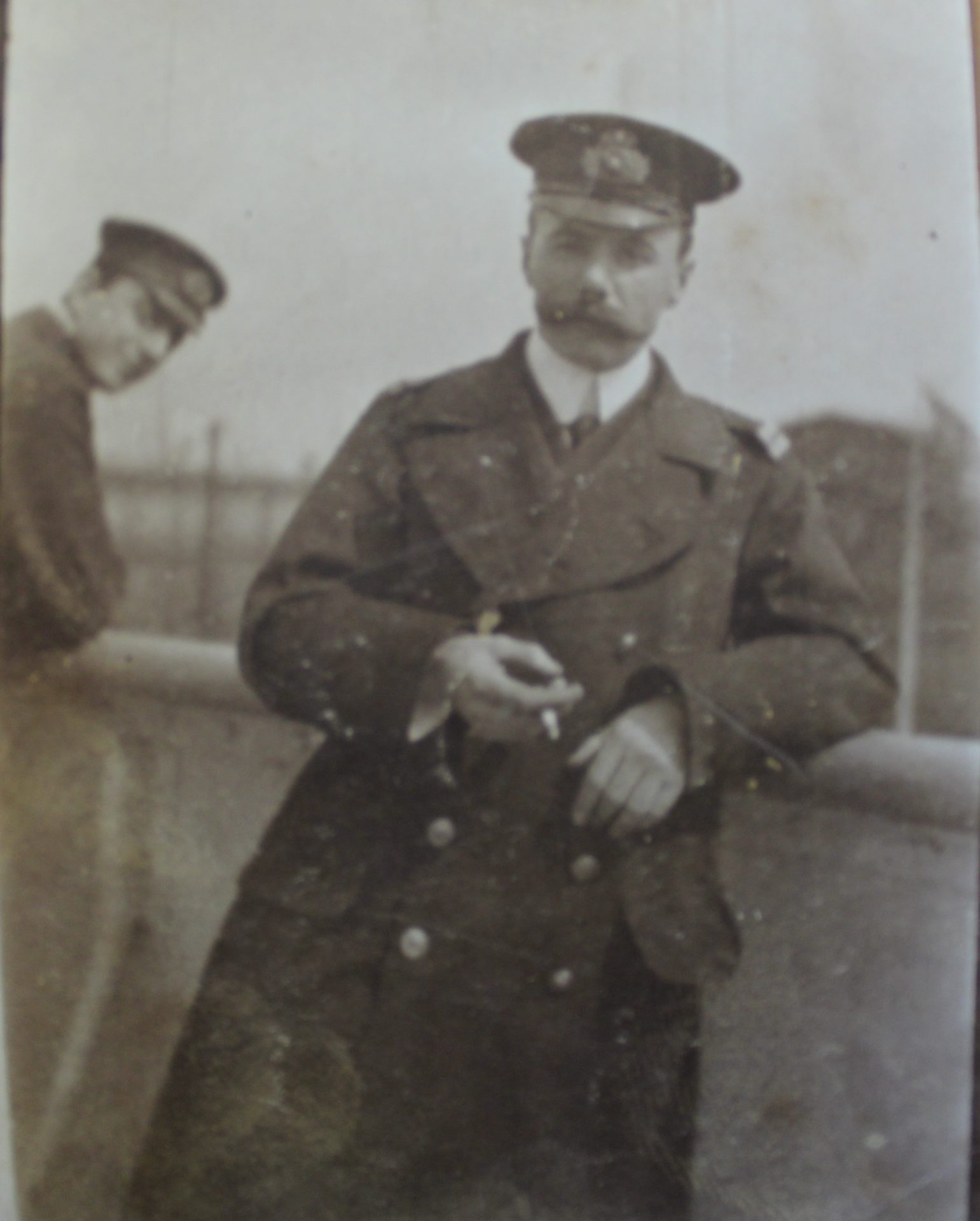 'On board R.M.S "Titanic."
11th April 1912
Dear Mother,
I travelled from Liverpool on Monday by the 12 o'c train & arrived on board at 10pm feeling pretty tired. I am very well & am gradually getting settled in my cabin which is larger than my last. This seems all the time as if it were the Olympic & I like it very much. I am a member of the club now which is an advantage. Be sure to let me know how Father gets on with his club. I was glad to get away from Liverpool as usual & don't intend to go up for a month or two. I found my two trunks unlocked & 5 or 6 dollars stolen out of my pocket book. I hope none of my stamps have been stolen. Did I leave my old portmanteau when I borrowed the kit bag? I think not.
With fondest love
John.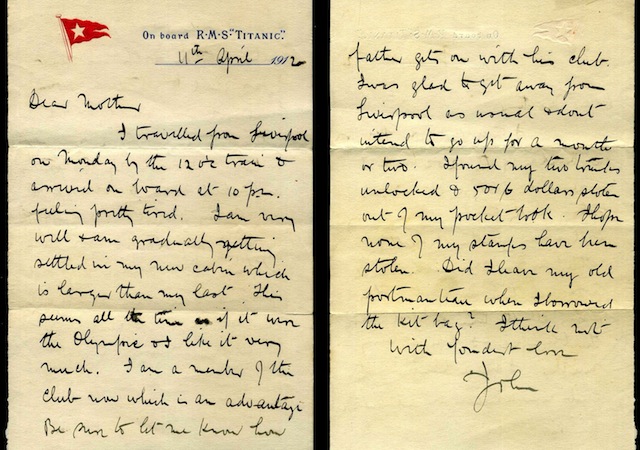 What happened to the letter?
The letter remained in the possession of Nel Simpson, daughter-in-law of Dr Simpson, until 1997. The letter was regrettably given away, along with other White Star memorabilia such as a teacup, saucer and spoon from RMS Olympic, to a Titanic expert in the Netherlands with the understanding that it would be exhibited in a museum. What happened to the letter from 1997 is unclear, as it was removed from public display and only reappeared when being sold at an auction in New York on 2nd March 2012.
There was fear amongst the family that the letter would never return to Belfast as the asking price of the letter was set at $34,000, a price that they could not raise in time for the auction.
The Maritime Belfast Trust stepped in as a benefactor and purchased the letter with the intention of it being displayed in Titanic Belfast. The letter is now on display within the interactive galleries in the visitor attraction.
Artefacts and Accounts of Simpson
There are a few accounts left of Dr Simpson and his time on board RMS Titanic.
Written in the Washington Herald on Sunday 21st April 1912, confirmation was published that Simpson and Loughlin dined at the table of John Jacob Astor and his pregnant wife Madeleine on the evening of 14th April, 1912. Assistant Steward, Thomas Whitely, is quoted saying, "It was the Gayest Night of Trip Among Diners," "At Mr. Astor's table Dr. O'Loughlin, the ship's surgeon, was seated with his assistant".
Belfast girl and stewardess on the Titanic, May Sloan, is thought to have been one of the last to leave Titanic and live. Writing to her sister while on the way back across the Atlantic, she details: "Dr Simpson came and told me "the mails were afloat". Things were pretty bad. He brought Miss Marsden and me into his room and gave us a little whiskey and water. He asked me if I was afraid, I replied I was not. He said: "Well spoken like a true Ulster girl." He had to hurry away to see if there was anyone hurt. I never saw him again".
Titanic's fifth officer and survivor Harold Lowe met with Dr Simpson's sister Lizette after the tragedy and recalled meeting Dr Simpson after Titanic's collision. "It was dark and he could not see very well when getting a boat lowered. Jack came to him and said 'Here is something that will be helpful to you', bringing him an electric torch. He never saw him after that," Lizette wrote to her mother in 1912.
Two exchanges between Simpson and Charles H. Lightoller, the most senior officer to survive the sinking, are also known. The first recorded exchange between the two happened when Lightoller was supervising the lowering of the portside lifeboats. A Night to Remember details; "Lightoller was sweating too. He peeled off his greatcoat. Even in sweater and pyjamas he was wringing wet from hard work. He looked so odd on this bitter-cold night that assistant surgeon Simpson, always a wag, called out, "Hello Lights, are you warm?"".
An obituary written in memory of John E. Simpson was published in the British Medical Journal. While the obituary detailed how Simpson was a student in the Medical Faculty in Belfast, received the M.B. of the Royal University in 1903, and moved to England to work as a General Practitioner, it also details the last recorded sighting of Simpson as written by Charles Lightoller. In a letter sent from the Adriatic on the 1st May 1912 to a personal friend of Simpson's, Mr R. W. Graham of New York, who was asking of confirmation of his death,  Lightoller confirmed that he was one of the last individuals to speak with Simpson before Titanic sank. Noting how he was in the company of messrs. M'Elroy and Barker, Dr. Loughlin, and four assistant pursers, he details that 'they were all perfectly calm in the knowledge that they had done their duty, and were still assisting by showing a calm and cool exterior to the passengers'. According to Lightoller, they shook hands and exchanged the words 'good-bye, old man!'.
Correspondence between the family of Simpson and Lightoller after the sinking of Titanic details how photos were gratefully received by the officer.
Simpson was thirty-seven years old when he died. His body was never identified and therefore lost to the North Atlantic. A memorial at Belfast City Hall, a Gravestone in Bangor Abbey, and a plaque at Royal Belfast Academical Institution all pay homage to John Edward Simpson.
Special thanks to the family of Dr Simpson, and his great-nephews John and Denis Martin for providing the source material and images.