Maritime Belfast have a collection of artefacts relating to the RMS Titanic, SS Nomadic and the Harland & Wolff Shipyard.
The Maritime Belfast Trust and Titanic Belfast have developed an Artefacts policy that looks at the collection, conservation and display of artefacts within the Titanic Belfast and SS Nomadic visitor attractions, and Titanic Hotel Belfast. When considering a new item for display, they carefully look at the item's provenance and authenticity, and how it helps to tell the story of Harland & Wolff, RMS Titanic, SS Nomadic and Belfast's maritime and industrial heritage.
The Out of Stores exhibition showcases many of the items that Maritime Belfast have acquired through local engagement,  including personal items and tools from former Harland & Wolff employees. Some of these have been displayed in the heritage rooms and drawing offices of Titanic Hotel Belfast, or else put on display Out of Stores exhibition in the Andrews Gallery in Titanic Belfast.
Some of the items in the collection:
Thompson Works Theodolite – an artefact from the shipyard, the Theodolite has its original ruler that measures more than 10 feet and would have been used to calculate the angles on many of H&W's ships.
Tools from a Shipwright, a Joiner, a Caulker, a Welder and a Draughtsman. Some of the tools are said to have been used in the construction of RMS Titanic.
An industrial sized sewing machine.
Linen from a Tracer who worked on HMS Belfast.
Family letters from the 1850s talking about Edward Harland.
Furniture made by a cabinetmaker who worked on RMS Titanic.
Donations
If you have material which you would like to donate, please contact us. We always welcome the opportunity to acquire artefacts that people would like to loan or donate for free, but it is unlikely we will purchase an artefact unless we feel it can be used to enhance the Titanic story when the galleries in Titanic Belfast or SS Nomadic are being refreshed. At present however the galleries are up to date, and there is no gallery refreshment programme in place.
If you would like to sell your item, you could contact auctioneers such as Ross's Auctions or the Titanic specialists Aldridge's & Sons to discuss valuing and authenticating your item. Maritime Belfast is not able to provide that service.
The artefacts on display in Titanic Belfast include:
The original signed deed of partnership agreement between Edward Harland, Gustav Wolff, William Pirrie, Walter Wilson and Alexander Wilson, dated December 1874. The Harland & Wolff partnership was twenty years old by then and as it expanded, recognised the input of Pirrie as chief draughtsman, and the Wilson brothers, Walter as yard manager and Alexander who was in charge of engine design and installation, by making them partners.
Original Displacement Plans for "Olympic" and "Titanic," ships 400 and 401 (1908). A displacement plan indicates the amount of water that a vessel displaces, which is expressed in displacement tons. Titanic displaced approx. 52,310 tons. This plan would have been drawn up a few metres away in the Drawing Offices by Harland & Wolff's draughtsmen.
Harland & Wolff Launch notebook. This unique piece of history details every launch from Ship No 1 to Ship No 1533.
The Board of Trade Plan. Once the most expensive Titanic artefact sold at auction, the plan is 33foot wide, and was prepared by the White Star line's Naval Architects for the inquiry into the loss of Titanic.
Time Recording machine. Once sited at the Drawing Offices building, this machine recorded overtime hours for any workers at the weekend.
The Dr Simpson letter. The last letter written by Dr Simpson on board RMS Titanic and posted just before he set sail from Cobh in 1912. Dr Simpson was the Titanic's surgeon on board Titanic and died when the ship sank.
The SS Nomadic also contains some interesting artefacts, many of which relate to its years of service in Cherbourg Harbour, France.
Postcards of Nomadic at work in Cherbourg alongside the other tender to Titanic, SS Traffic.
A rare image of the Abercorn basin, with the Caisson Gate clearly visible. The oldest remaining Harland & Wolff hull, the Caisson Gate is on display beside SS Nomadic.
An original photograph of one of Titanic's lifeboats approaching the Carpathia during the rescue of survivors.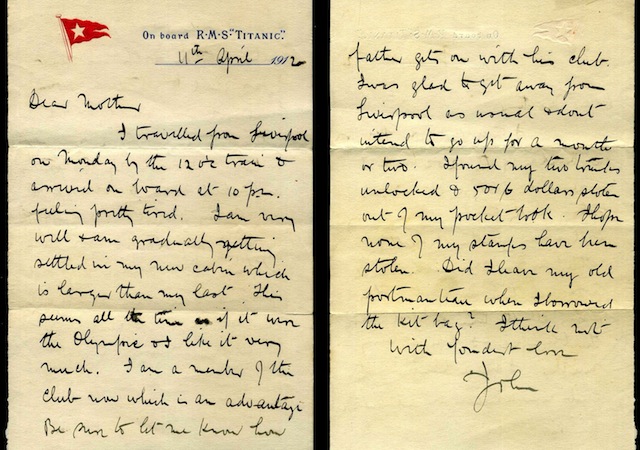 Harland and Wolff archives
There are a number of archives on the Harland and Wolff shipyard:
The Public Records Office of Northern Ireland (PRONI) holds a huge collection of documents from Harland and Wolff dating from 1861 to 1987. Many of these documents and files are open to the public, or access can be requested from Harland and Wolff. The collection includes minute books detailing key decisions throughout the company's history, sea trial records, photographs, and other items that document most aspects of the history of Belfast's famous shipbuilding firm.
The Harland & Wolff archive is one of the most extensive business archives held in the Public Record Office, with around 16,000 documents.
PRONI also has a large collection of historic maps relating to the development of Belfast Harbour.
The National Museum of Northern Ireland also has an extensive archive of Harland and Wolff documents and photographs. The company's official photographer, Robert Welch, took hundreds of images of the shipyard when building its most iconic ships, and the images, taken on glass plate negatives, are a fascinating glimpse into the business. NMNI also has a large collection of ships' plans and technical booklets relating to many of H&W's ships. These are not open to the public, but more information on them can be requested.