The Maritime Belfast Trust acquired the lease for the Steam Cranes in 2012, and are currently exploring a number of recommendations for their future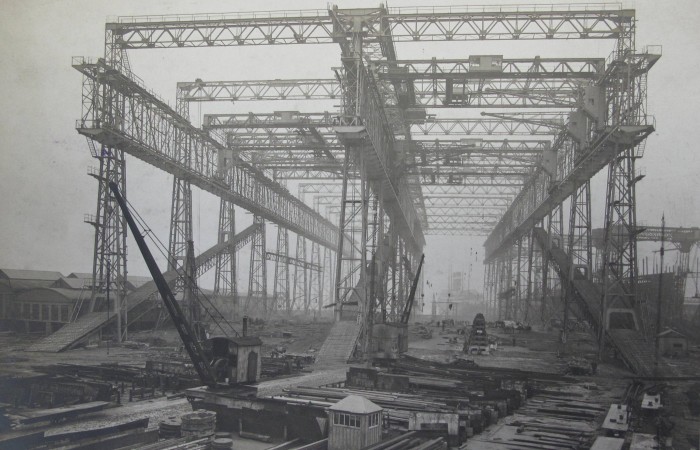 Steam cranes were once an indispensable part of shipbuilding in Belfast, with records of their use dating back to the 1870s. The three steam cranes in question, called the 'Wee' Cranes by some, were manufactured by Thomas Smith & Sons of Rodley (West Yorkshire) for Harland and Wolff, and are the only survivors of the many cranes that served the shipyard and the Harbour estate. Purpose built for the small railway that served the shipyard, they were the last steam cranes built by Smith & Sons, and among the last steam cranes ever built in Britain.
The North Crane VS23 was ordered from Smith & Sons in 1941, primarily to assist with building ships for the war effort and is the oldest of the three cranes. The Middle Crane VS81 and the South Crane VS82 were ordered in 1957 and delivered the following year. They were all destined to work in the Victoria Yard, but as the yards were all interconnected by a small railway, ended up at the Thompson Dock. They were used up until 1989 when they were decommissioned and stored at the Thompson Dock, and then at the Titanic Studios, overlooking the remaining railway lines they used to run along. They have been moved to a new home in Titanic Quarter to start the process of restoration.
Since they were decommissioned, there has been a continued interest in the steam cranes, not least because of the myth that they were involved in the building of the Titanic. Sadly, this isn't the case, but they did work on many of Harland & Wolff's later ships and other projects. In recent years, one of the cranes also had a cameo role in the 2002 film Reign of Fire, an apocalyptic action fantasy set in 2020 Britain; it was directed by Rob Bowman and starred Christian Bale and Matthew McConaughey.
Do you have memories of the Steam Cranes?