Published: 18th August 2021
All aboard for the Belfast Maritime Weekender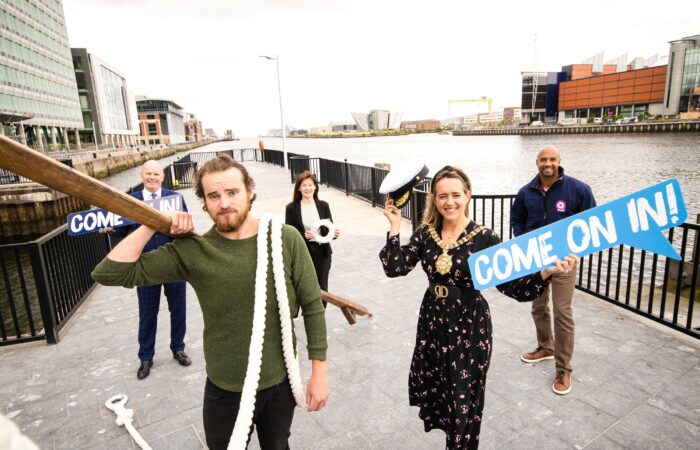 Belfast's Maritime Mile is getting ready to host a two-day festival of family fun on Saturday 4 and Sunday 5 September.
The Belfast Maritime Weekender will bring Belfast's maritime and industrial history to life and includes pockets of exciting seafaring activities stretching across Sailortown, City Quays and Donegall Quay, to Queen's Quay and Titanic Quarter.
The weekend's daytime and evening activities include live music and dance, nautical themed street performers, playful art and heritage installations, dance picnics for children, walking tours, a treasure trail, a pop-up market, illuminations, and much more.
Lord Mayor of Belfast, Councillor Kate Nicholl, said: "With Belfast Maritime Weekender we're asking people to come on in and enjoy what's on offer safely. This is our first council event since lockdown and a celebration of our amazing maritime heritage, along the spectacular Maritime Mile.
"Things are a little different this year from our usual Maritime Festival format, but we're delighted to be giving people an opportunity to get out and about and enjoy 'mini moments' of fun. The experience has been designed with safety in mind, and we remind everyone coming along to keep safe and think of others as they enjoy the weekend.
"Look out for more fun-filled events and live music over the coming months as cultural activities make a welcome return to the streets of Belfast."
The Belfast Maritime Weekender has been organised by Belfast City Council in partnership with Maritime Belfast Trust, and is supported by Belfast Harbour, Titanic Quarter Limited, the Odyssey Trust, Department for Communities and Maritime Mile partners and media partner Q Radio.
Kerrie Sweeney, CEO of Maritime Belfast Trust said: "Maritime Belfast Trust is delighted to partner with Belfast City Council on the Belfast Maritime Weekender, taking place along the Maritime Mile.  The Maritime Mile may be only one navigational mile of water but it represents over 10km of iconic, heritage waterfront, comprising Sailortown, City Quays, Queens Quay and Titanic Quarter.
"Throughout the last 18 months, the city's waterfront has become a real solace for local people to walk, run, cycle and explore.  As a charity dedicated to preserving Belfast's rich maritime heritage, Maritime Belfast Trust has worked tirelessly during this period to strengthen the outdoor experience with playful art and heritage installations, such as Soundyard and Riverbox. The Maritime Weekender is a fantastic opportunity to showcase our achievements and celebrate the re-opening of our attractions and hospitality businesses, in a safe, well managed, open-air environment."
Ibe Sesay, presenter of Q Radio Drive, said: "After a long 18 months, Q Radio is buzzing to be part of Belfast Maritime Weekender 2021, a home-grown festival and Belfast City Council's first major event to be held in the city since the pandemic began. Despite the huge challenges presented by the Covid-19 there is a fantastic line-up of attractions celebrating Belfast's unique maritime history and Titanic legacy, from walking tours, street performers, live music and a pop-up market to name a few!"
While there will be no tall ships this year, Belfast will be welcoming a host of vessels and boats to the quayside, giving visitors an opportunity to climb aboard and discover more about life at sea from the visiting crews. The Irish Lights vessel ILV Granuaile and 1960s old style tug boat Brocklebank will also be in port, with a range of displays, demo racing and other on-the-water attractions all part of the weekend entertainment.
A self-led Maritime Treasure Trail is on offer with theatrical performances along the route, and a range of ticketed tours will take place daily, including Maritime Mile walking tours, photography tours, cycle tours, under the Lagan tours and Glass of Thrones walking tours. You can also catch the powerful National Geographic photography exhibition, 'Planet or Plastic?' courtesy of SSE Airtricity and not-for-profit organisation, Sick of Plastic.
The Belfast Maritime Weekender also marks the start of Belfast City Council's Belfast Music programme, with gigs and performances lined up until December. Aside from buskers and live music across the Maritime Mile, a number of special performances will be happening in some unusual venues including Mindfulness Sound Bath sessions in St Joseph's Church, an open mic night in the American Bar and a cabaret in the Drawing Office at the Titanic Hotel.
For more event information and to book activities, go to Belfast Maritime Weekender | Maritime Mile (maritime-mile.com)