Published: 27th January 2020
Local Community Groups Enjoy 'Titanic' Day Out along the Maritime Mile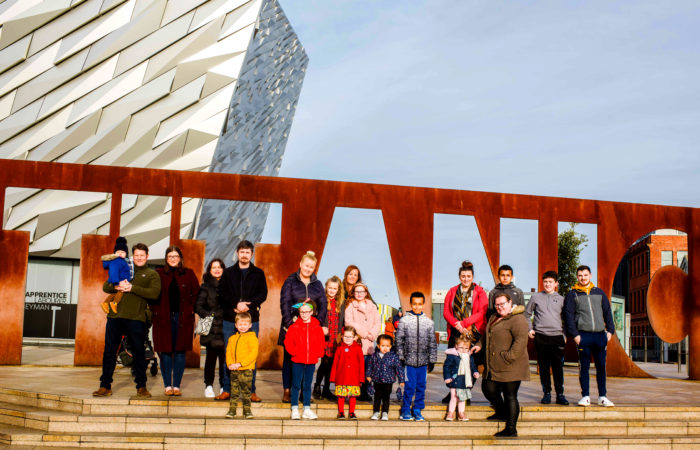 On Sunday 26th January, over 30 community groups from across Belfast enjoyed a day out at Titanic Belfast & SS Nomadic, as part of Local Community Day.
Titanic Foundation, the charity set up to preserve and promote Belfast's maritime and industrial heritage, including the development of Titanic Belfast, were delighted to work in collaboration with Titanic Belfast to provide 500 complimentary tickets to the Titanic Belfast visitor experience.  The community groups came from across the city, from Men's Sheds to groups for senior citizens, families, mental health, people living with disabilities and volunteers.
The Local Community Day initiative helps raises awareness that Titanic Belfast is accessible for all, and that local people can come along and enjoy as well as explore their very own heritage right on their doorstep.
The local community groups also had the opportunity to visit the interactive 'River Box' project situated on the Titanic Slipways. River Box is a striking piece of audio-visual contemporary art that uses shipping containers to reflect the comings and goings of Belfast port.  It features images of the port and people from the local community that live and work in the area.
Kerrie Sweeney, Chief Executive of Titanic Foundation, said, "Local Community Day is a wonderful initiative, which has been running since 2016 and has provided over 130 groups from local neighbouring communities the opportunity to engage with Belfast's maritime and industrial heritage along the Maritime Mile."
Judith Owens, Chief Executive of Titanic Belfast, said, "At Titanic Belfast, we couldn't succeed without local support and this is our way of showing our appreciation. Through the Titanic Foundation, we are delighted to have opened our doors to the 130 local community groups to enjoy our immersive experience, as well as the Maritime Mile, right on their doorstep."
Ciarán Hargey from the Market Development Association, highlighted, "The market area is a working-class district located a mile from Titanic Quarter, but very few people had been down before and don't go to what's on their doorstep. We were thrilled to see the tickets fly out like hot cakes, everyone had an amazing day and questioned why they hadn't been down. They will all be visiting in the future again."
Claire Allen, from New Lodge Duncairn Community Health Partnership, said, "Fantastic opportunity to allow local families to enjoy a day to experience an attraction right on their doorstep. The timing has been perfect as some of the children are studying Titanic at school and they wouldn't have had the experience otherwise."