Published: 19th January 2022
A Welcome & A Farewell to Maritime Belfast Trust Board Trustees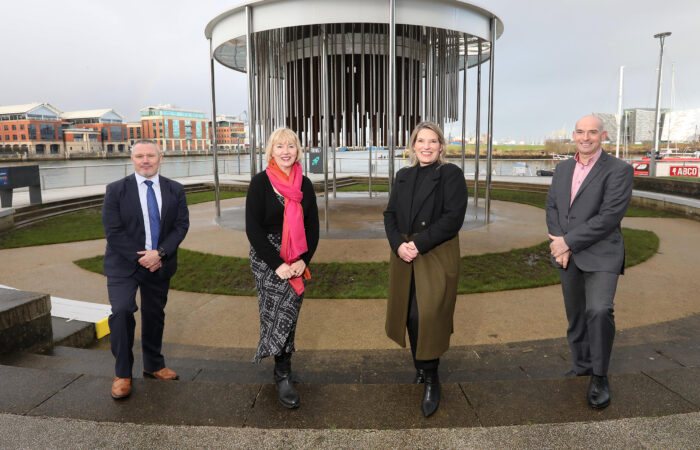 Maritime Belfast Trust, the charity that preserves and promotes Belfast's maritime heritage, announces the appointment of three new Trustees to their Board, Kyle Black, Head of Internal Audit for Danske Bank UK, Judith Davis, Operations Manager for Belfast City Airport and Tim Losty, Joint Secretary of the North South Ministerial Council and Director for International Relations for The Executive Office.
The new Trustees will bring a wealth of knowledge from careers in risk management and governance, regeneration and strategic planning, and community engagement. Alongside our existing Board members, they will bring a fantastic perspective and breadth of experience to help guide and shape the implementation of Maritime Belfast's new strategy.
Kyle Black's background is in Audit, Risk Management and Governance, holding the Head of Audit Roles for both AIB Group (UK) plc and Danske Bank UK. In addition, he was Head of Operational Risk at AIB and Chair of the Bank's Incident Management Team.  Judith Davis, is responsible for the day to day running of Belfast city airport and leading the passenger experience, safety and security compliance functions.  Ensuring that the airport provides a best-in-class customer experience for over 2.5 million passengers on an annual basis. Tim Losty was the NI Executive's Minister Counsellor in Beijing and established diplomatic relations with China and set up the NI Bureau in China. Tim has worked for the NI Executive since 2003 when he was Counsellor for the Northern Ireland Bureau in Washington DC.
Dr Marie-Thérèse McGivern, Chair of Maritime Belfast Trust, said:
"After a decade of service, we also say a sad farewell to three long-term Trustees who collectively have served a total of 24 years in support of our work. Denis Power, Dr Sally Montgomery OBE and Mark Beattie. They have played a vital role in relation to Maritime Belfast's key achievements from the development and opening of Titanic Belfast in 2012, which in its first 7 years of operations has attracted over 6 million visitors and generated £320million additional tourist spend for the local economy.  The restoration of the former Harland & Wolff building and Drawing Offices into Titanic Hotel Belfast, saving a Grade B listed building which was on the 'At Risk' register.  The acquisition of SS Nomadic, which is the last White Star ship in the world.   Preserving the extremely rare Mew Island Lighthouse Optic, that is now on permanent public display as the Great Light on the Titanic Walkway.  It has been a real honor and a privilege to work with Denis, Sally & Mark over the last 10 years."
 Dr Marie-Thérèse McGivern, went on to highlight: "Maritime Belfast plays a critical role in preserving and promoting Belfast's rich maritime heritage for the enjoyment of current and future generations and in doing so contribute to sustainable social and economic development. The charity is working with a range of partners including Belfast Harbour, Titanic Quarter Limited, Odyssey Trust, Titanic Belfast and Tourism NI and has launched exciting plans for the Maritime Mile, with a number of projects already taking shape over the last 18 months."
"At this pivotal time, the in-depth expertise of the new Trustees will help us to continue to shape Belfast's waterfront as a vibrant, accessible heritage destination for everyone. We are delighted welcome a-board Kyle, Judith and Tim for the next part of our journey."