Published: 16th March 2022
CELEBRATE A DECADE OF TITANIC BELFAST WITH FREE PHOTOGRAPHY EXHIBITION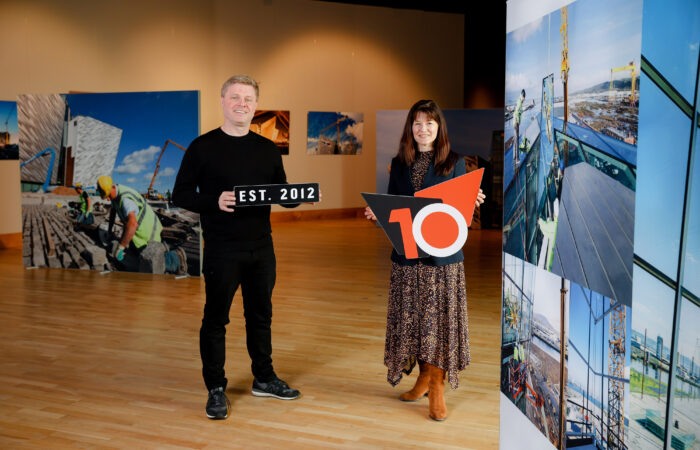 A special photography exhibition, The People Who Built Titanic Belfast, has been launched to mark the 10th birthday of Northern Ireland's leading tourist attraction.
Open daily, the free exhibition is located in The Andrews Gallery and includes 123 photographs and illustrations and tells the story of Titanic Belfast from its inception and design to the structure being fitted and built into the iconic building that is instantly known today by millions of people around the world.
The human element of Titanic Belfast has also been brought to life in the exhibition with pictures  of the people who created it, including the Architect, the late Eric Kuhne, who can be seen sketching and hand-drawing ideas for the design in his office to the builders who laid the foundations and built it from the ground up.
The People Who Built Titanic Belfast is dedicated to the working men and women of Belfast, past and present, who helped to create both RMS Titanic and Titanic Belfast, the permanent home for her memory.
As part of the milestone celebrations, Titanic Belfast is hosting a Birthday Bash with an exciting programme of activity from Thursday 31st March – Sunday 3rd April. There promises to be something for everyone including hot air balloon and kite show displays, live music, face painting and a candlelight display on Titanic Slipways.
There will also be a series of Titanic Talks covering a variety of topics from the architectural design of Titanic Belfast's spectacular building to the real-life stories of Titanic descendants.
Kerrie Sweeney, Chief Executive Officer of Maritime Belfast Trust said: "To mark the 10th birthday of Titanic Belfast we are inviting people to join in on the celebrations with a Titanic Birthday Bash. We have also launched The People Who Built Titanic Belfast, a free exhibition that gives visitors the opportunity to take a walk down memory lane to find out more about its creation and the lasting impact it has had for Northern Ireland, and indeed the world."
John Doherty, Titanic Belfast's Group Creative Director and curator of the photography exhibition said: "Titanic Belfast is more than a building. It is a world-leading visitor attraction that was built by the people of Belfast and Northern Ireland. We have spent the last number of months going through the archives to curate this unique photography exhibition, that not only celebrates a decade of Titanic Belfast, but the many hands that built her. Visitors will have the chance to view never seen before photographs including the faces of The People Who Built Titanic Belfast and helped to give us the legacy of this iconic building that will be celebrated forever."
For further information on the Titanic Birthday Bash and The People Who Built Titanic Belfast exhibition go to www.titanicbelfast.com