Published: 9th June 2020
Titanic Drive-in Concerts Set for Belfast!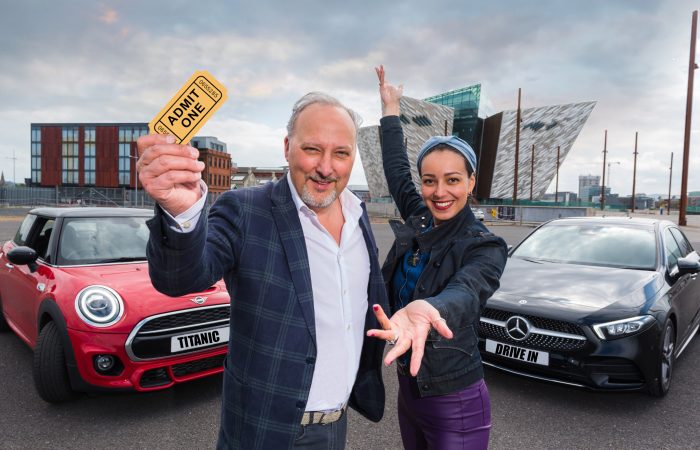 Some of Northern Ireland's finest performers are coming together to host Belfast's very first series of drive-in concerts. Hosted by Peter Corry Productions the event will be staged on Belfast's iconic Maritime Mile at the Titanic Slipways in front of a backdrop of the impressive Titanic Belfast and the Titanic Hotel.
The event will run for three days from the 3rd – 5th July and will feature a variety of shows each day from morning to night ensuring there is something for everyone.
Event Organiser, Peter Corry explains the line up;
"The weekend will kick off with the little ones enjoying a one hour show entitled 'Once Upon a Time' which will be a magical concoction of story-telling and songs by some of the world's most loved princesses. Daytime shows will also feature a very special 'Proms in the Car Park' with Noel Thompson.
"Evenings will get a little livelier, with two shows every night to make sure we get many styles and tastes catered for! Evening shows will include; The Bjorn Identity, performing Abba's most loved songs, Flash Harry to bring the magic of Queen alive and I will also be taking to the stage with a show packed full of all the hits from the musicals.
"We hope that line-up will have you all singing and dancing along from the comfort of your own car!"
Peter say's he's looking forward to bringing live music back to the province;
"The entertainment industry was knocked sideways when lockdown took hold of Northern Ireland, but we are pleased that with the easing of some restrictions, we are now in a position to put in place a programme of events that will satisfy the needs of lovers of live entertainment of all ages across the province.
"With almost all live performances being cancelled this summer and for the foreseeable future, and with no real end in sight as to when we can get together and enjoy live music and shows in the normal way,  we felt there was a real need to be proactive and to do something different to bring live entertainment back to the people of Northern Ireland, as soon and as safely as possible. This event will give people that all important morale boost that only music does and we're confident that these exciting drive-in concerts are the answer for now."
Kerrie Sweeney from the Titanic Foundation says of the event;
"We are delighted that Peter Corry Productions has chosen the Titanic Slipways as the location for this one-off event.  Belfast's iconic waterfront is synonymous with events and entertainment, and we look forward to gradually re-opening our visitor experiences over the summer months as restrictions ease.  This is a great start to welcoming local people back to the Maritime Mile to enjoy our outdoor historic landmarks in a safe environment".
The event can hold up to 300 cars, which means that potentially there will be an audience of 1200, who can enjoy each show with those they live with, while at the same time easily social distancing from others.
Toilet facilities will be on hand and extra safety precautions will be in place to ensure everyone's safety. The team at Peter Corry Productions have enlisted the help of a top medical professional to ensure all potential risks are assessed and all guidelines are in place to ensure a safe and enjoyable event for everyone. Further details of this are available on petercorryproductions.com .
To book tickets please visit petercorryproductions.com/titanic-drive-in-concerts. Tickets on sale from Wednesday 10th June at 7pm.
For more event information please visit petercorryproductions.com