Published: 5th April 2023
GET READY TO EXPLORE MORE OF BELFAST'S MARITIME MILE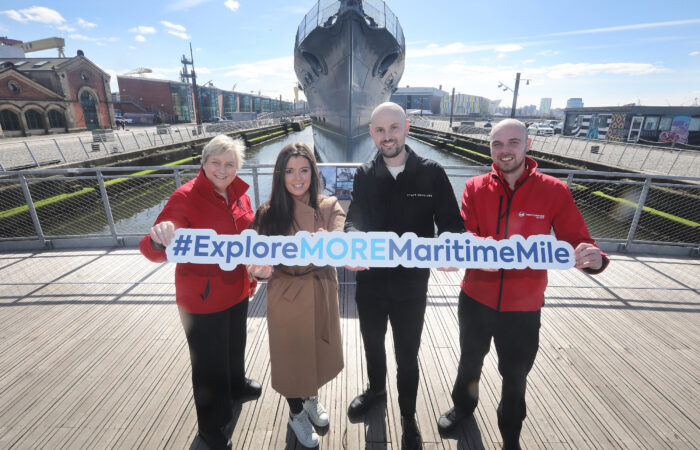 Maritime Mile, an initiative by Maritime Belfast Trust, the charity responsible for preserving Belfast's maritime and industrial heritage, is inviting you to Explore MORE of Belfast's iconic waterfront this year.
The Explore MORE campaign aims to encourage and motivate locals and visitors to explore more by taking a trip along the Maritime Mile to visit vibrant quaysides and heritage attractions, go for a walk, run, or cycle and enjoy a cocktail or a bite to eat in one of the eateries dotted along the way. All whilst learning about Belfast's maritime story during the day or evening.
Jenna Sloan, Marketing and Digital Content Officer at Maritime Belfast Trust said, "2023 is another exciting year for the Maritime Mile and there certainly is an action-packed programme of launches, new experiences, and lots to see and do – from HMS Caroline welcoming visitors back on board, the new visitor experience, Titanic Distillers at the Thompson Dock, which will open its doors this spring to the Reimagined Titanic Belfast experience.
We are also delighted to announce that Sundays on the Maritime Mile will be back, featuring a wide range of local music talent popping up and performing at different locations along the waterfront every Sunday in May and August. We encourage and welcome everyone to come down to explore MORE of Belfast's vibrant quayside heritage."
There are so many great things to discover & explore, here is a sample:
•Step onboard HMS Caroline and explore the sole survivor from the Battle of Jutland. Witness the Battle of Jutland unfold, visit the captain's quarters, crack codes, launch torpedoes and signal ships, explore the engine room, and see where the crew lived.
•Discover the newest attraction on the Maritime Mile, Titanic Distillers at the Thompson Dock. Belfast's first working Distillery in almost 90 years and is also a visitor attraction offering a range of tours, opening 28th April 2023.
•Experience some of Northern Ireland's finest music talent with Sundays on the Maritime Mile throughout May and August.
•See more, hear more, and feel more at the Reimagined Titanic Experience at Titanic Belfast. Discover the new galleries and the breath-taking artefacts.
•Learn all about Belfast's Maritime Heritage at the 'Where Belfast Begins' outdoor exhibition on Queen's Quay.
•Join PRONI as they celebrate their 100th year with a yearlong programme of events to enjoy.
•Clock up to 10,000 heritage steps along the Maritime Mile by walking in the footsteps of former H&W shipyard workers. Take in the sights and sounds of the stunning waterfront, perfect for walking, running, or cycling.
For your very own passport to the Maritime Mile and a few incentives, download your guide.
For full details on the Explore More Campaign visit www.maritime-mile.com.
Join the conversation on Maritime Mile Facebook and Instagram using #ExploreMOREMaritimeMile #MaritimeMile.