Published: 22nd June 2022
Maritime Stories Key To Future Development Of Belfast's Iconic Waterfront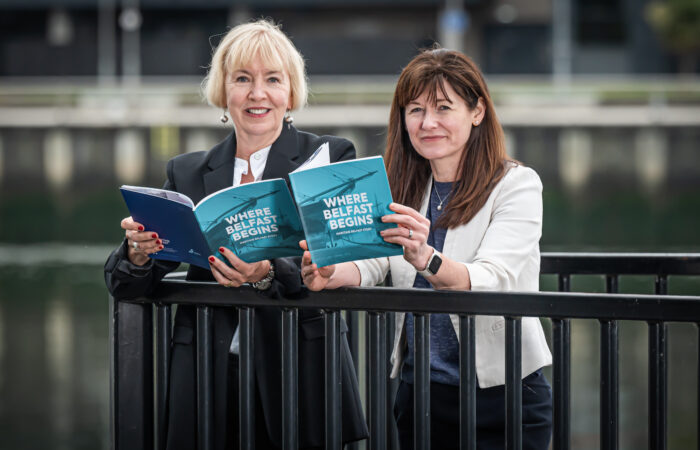 Maritime Belfast Trust, the charity responsible for promoting and preserving Belfast's maritime heritage, has launched Where Belfast Begins, Maritime Belfast Story.  A story plan which is a framework for anyone who has an interest in developing the city's waterfront and Maritime Mile.  It is also a guide to help bring Belfast's distinct maritime story to life, influence development and create an iconic and authentic heritage destination.
The plan identifies three core themes which are explored separately:  Taming, reclaiming, regenerating; Trading, making and innovating;  Neighbourhoods and livelihoods. Each theme is supported by several storylines, a map highlighting significant heritage sites (some tangible and some disappeared); touchpoints that bring the theme to life and prominent characters who played a significant role in the Maritime Belfast Story.
Each section includes a best practice example demonstrating how maritime heritage can be used to create an authentic experience and contribute to a distinctive waterfront destination. It is hoped Where Belfast Begins, Maritime Belfast Story will inspire designs, street names, public realm and use of space, branding, marketing, promotional material, events, festivals, art installations, menus, dishes and even cocktails.
The Maritime Belfast story plan has been informed by in-depth research, engagement with neighbourhood communities over several years, and Belfast City Council's wider work on Belfast Stories.  It also features a special commission by well-known Belfast writer Glenn Patterson, which captures the authenticity and essence of Belfast's historic waterfront.
Throughout 2022, the Maritime Mile is celebrating several milestones including Titanic Belfast 10th Anniversary and 150th anniversary of St Joseph's Church Sailortown. The launch of Where Belfast Begins, Maritime Belfast Story coincides with the celebrations of the Belfast Harbour Commissioners 175th Anniversary.
Launching Where Belfast Begins, Maritime Belfast Story Kerrie Sweeney, Chief Executive Maritime Belfast Trust, said:
"As a heritage trust, Maritime Belfast believes that the most significant asset is the River Lagan and its story.  We are proud to launch Where Belfast Begins, Maritime Belfast Story. It is a significant project which has involved a substantial amount of work and contribution from a range of people. I would like to take this opportunity to thank everyone who worked with us on this project and over the years, for sharing their knowledge, stories, and memories. We are especially indebted to the support provided by Glenn Patterson whose work helped to guide and shape our storytelling.
Kerrie added:
"Whilst  much of our maritime heritage has been replaced by new buildings and developments, there are some elements still visible – from docks to quays, to drawing offices and pumphouses. Our plan illustrates much of the visible and hidden heritage, highlights where we can tell these stories better and provides an opportunity to help shape and achieve an iconic maritime experience that is unique to Belfast."
Supporting the launch of the plan, Belfast writer Glenn Patterson added:
"It was a huge honour to be asked to work with the Maritime Belfast Trust on Where Belfast Begins, Maritime Belfast Story. As a writer whose work has always been rooted in the city of Belfast, I have been drawn time and again over the years to its point of origin: the confluence of the Farset and the Lagan Rivers at the foot of modern High Street and all the commerce, industry, and community life that grew up alongside it, right down to the mouth of Belfast Lough. It is a living, breathing (and sometimes clanging and squawking) history lesson – an unbroken line out of the past, and a tantalising glimpse into the future. Nothing stays still for too long. I hope the Maritime Belfast Story, and my contribution to it, encourages people to look afresh at this vital mile, to support its further conservation and development. It is in a very real sense a part of all of us."