Published: 17th July 2023
BELFAST'S WATERFRONT COMES ALIVE WITH FREE MUSIC THIS AUGUST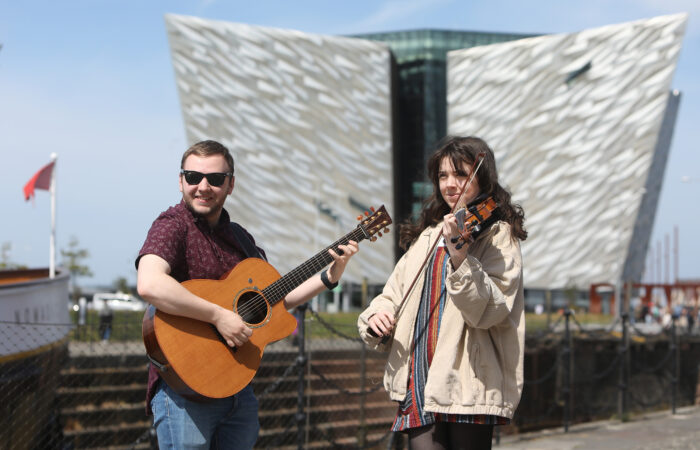 Sundays on the Maritime Mile are back this year, offering free musical performances every Sunday throughout August between 12 noon and 5pm at various locations along Belfast's Maritime Mile.
Facilitated by Maritime Belfast Trust, the charity responsible for preserving and promoting Belfast's maritime heritage, and programmed by local festival organiser Snow Water, Sundays on the Maritime Mile features some of Northern Ireland's finest artists from opera to singer songwriters, jazz, trad, folk and indie artists.
Venues across Belfast's waterfront include the award-winning SoundYard next to the Odyssey and Abercorn Marina, historic Hamilton Dock, RiverBox on the Titanic Slipways & the new Terrace at AC Hotel Belfast. Visitors are encouraged to make a day of it, grabbing a picnic and bringing kids down to dance along the Mile each Sunday.
The events feature weekly programming from NI Opera, as well as performances from singer-songwriters Philip d'Alton and Gerry Norman. There will be trad from Eimear Johnston and guests, jazz from Two's Company and disco, rock, and swing arrangements from Downshire Brass.
Kicking off on 6th August, Maritime Belfast Trust has also partnered with Chordblossom to host up and coming local singer-songwriters along the Mile, including Cathal Francis, Lucy Bell, Róise and Sasha Samara.
Sundays on the Maritime Mile is just one of the events happening along Belfast's waterfront this summer. Throughout July there are pop-up Céilís at the SoundYard every Sunday, leading up to the Belfast TradFest's, Titanic Céilí on 30th July.
Jenna Crymble, Marketing & Digital Content Officer at Maritime Trust Belfast, said,
"We're excited to welcome visitors and locals back to explore more of the Maritime Mile in August for our extensive programme of events. Sundays on the Maritime Mile showcases the very best of music from Northern Ireland and will provide entertainment as we expect thousands of visitors to walk, run or cycle down the mile at one of Belfast's  free outdoor music events this summer."
Sundays on the Maritime Mile is part of Maritime Belfast's 'Explore MORE' campaign to encourage and motivate locals and visitors to explore more of the Maritime Mile. The campaign encourages people to take a trip along the Maritime Mile to visit vibrant quaysides and heritage attractions, go for a walk, run, or cycle, enjoy a cocktail or a bite to eat in one of the eateries dotted along the way, all while learning about Belfast's maritime story during the day or evening.
For the full programme, including weekly times and locations visit maritime-mile.com and join the conversation on Facebook and Instagram using #ExploreMOREMaritimeMile.