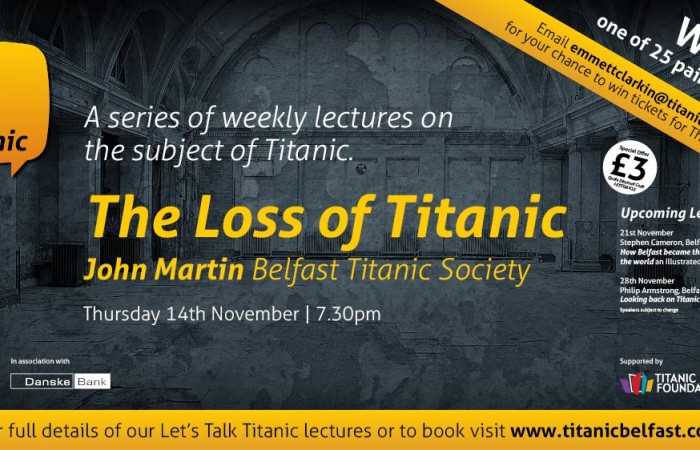 Let's TaIk Titanic was a series of lectures on the subject of the world renowned Titanic ship, each talk lasting approximately 1 hour and held in the magnificent Drawing Offices where she was designed. Organised by Titanic Belfast's Ocean Exploration Centre and supported by the Maritime Belfast Trust, speakers included Paul Louden-Brown (the White Star Line historian) and members of the Belfast Titanic Society.
Let's Talk Titanic covered a broad range of fascinating subjects, from the design and construction of Titanic and the role Belfast had to play as shipbuilder to the world, to what led to Titanic's final demise in the dark depths of the North Atlantic Ocean.   Lectures also delved into the technologies used to discover the wreck of the Titanic, and explore some of the personal profiles of those that were there on that fateful maiden voyage.
October 24th:      Paul Louden-Brown, White Star Line Archives; "Titanic: Sinking the myth".
Paul is a published authority on passenger liners and in particular the history of the White Star Line. Previously vice-president of the Titanic Historical Society, his work for documentary film makers and diving companies, has taken him around the world providing technical and historical information on shipwrecks. He was a consultant to James Cameron's blockbuster film 'Titanic' and is presently working on a definitive history of the White Star Line and a number of shipwreck projects. His talk focused on wreck diving and recovery operations.
November 7th:   Susie Millar, Belfast Titanic Society; "Thomas Miller"
Susie looked at the life of Thomas Miller who worked on Titanic during her construction and also sailed on the ship as a crew member.
November 14th: John Martin, Belfast Titanic Society; "The loss of Titanic"
John took an in-depth look at some of the causes attributed to Titanic's sinking.
November 21st: Stephen Cameron, Belfast Titanic Society; "How Belfast became the biggest shipyard in the world"
This talk looked at how the city of Belfast became shipbuilder to the world, starting with William Ritchie and ending with Harland and Wolff.
November 28th: Philip Armstrong, Belfast Titanic Society; "Looking back on Titanic's legacy"
Why is there still so much interest in Titanic today, 101 years after her demise? Why was Titanic built in Belfast, and why are the achievements of Lord Pirrie and Harland & Wolff are still remembered today?