Titanic Hotel Belfast & Drawing Offices – Preview Event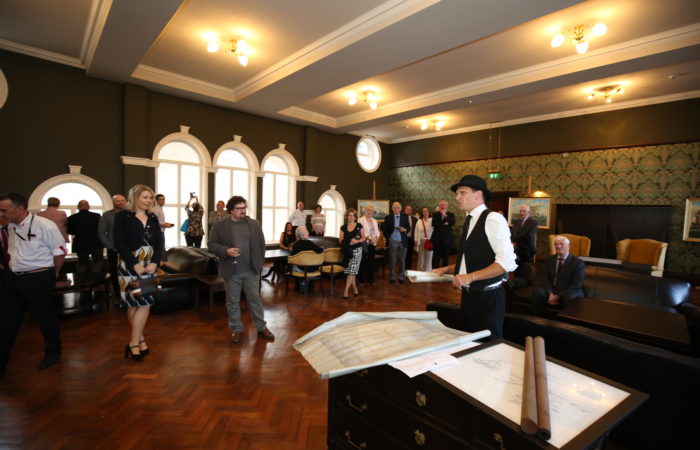 On Friday September 8th, Maritime Belfast held a preview event to celebrate the opening of Titanic Hotel Belfast and the Drawing Offices. The event was about acknowledging the input that many former employees had played in the project, alongside the people that had helped to deliver the final hotel or had supported the restoration.
We invited a number of former employees down to the building to see the transformation and hear their stories and memories of working in the shipyard. Many of them had begun their careers as apprentices or message boys, at fifteen or sixteen years old, and had stayed with the yard until they retired. Others had taken the opportunities the shipyard provided to go to sea with the ships, work for subcontractors, teach, or travel the world. As more than one told us, getting your apprentice indenture was a passport to work anywhere.
The guests were drummed into Drawing Office 1 to the Queens Island Victoria Male Choir, who performed a selection of songs. The Choir were originally setup in 1913 by employees of Harland & Wolff, and would have regularly sang at ship launches throughout the years, very fitting then that they welcomed guests to the opening of the hotel. The hotel's General Manager Adrian McNally opened proceedings, and our Chief Executive Kerrie Sweeney acknowledged the work that the project team, design team and contractors have all put into the restoration of the building. Special thanks went to Rodney McCullough, the former Deputy Secretary for Harland & Wolff, the last person to close the doors on the H&W Headquarters building, and a long time champion for its restoration. Angelina Fusco from the National Lottery Heritage Fund also spoke, highlighting how much the Heritage Fund have invested into Titanic Quarter and that the hotel joins a prestigious list of heritage projects.
Titanic Belfast's Discovery Tour guides took the guests on a bespoke tour of the heritage areas of the building, sharing the history of the many men and women who worked for the yard, including Lord Pirrie, H&W's longest serving Chairman, and Roderick Chisholm and Thomas Andrews Junior, tragic members of the Guarantee Group. The tale of how extra female H&W staff were drafted in to help in the Telephone Exchange during the Titanic tragedy was recounted, and guests were taken to the prestigious Presentation Room, now reinstated and overlooking Drawing Office 2.
The evening was a lovely way to celebrate the restoration of the building and acknowledge the efforts that have gone into transforming a derelict, abandoned building into a stunning hotel.