Titanic Heritage Plaques – the Guarantee Group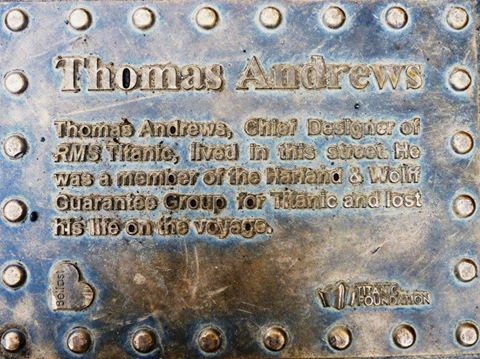 Maritime Belfast and Belfast City Council collaborated on a project in 2012, as part of the opening of Titanic Belfast, to commemorate the Guarantee Group. Maritime Belfast and Belfast City Council worked with the Department for Regional Development and Belfast Metropolitan College to design and install nine individual plaques – one for each of the nine men -on the pavements of the streets where each of the men lived.
The 'Guarantee Group', put together by Harland and Wolff, sailed on the great ship's maiden voyage to deal with any minor finishing faults. From apprentice plumbers to the ship's chief designer Thomas Andrews, each of the chosen men was selected for this prestigious role as a reward for his hard work during the ship's build. None of the nine men survived.
Belfast's Lord Mayor, Councillor Niall Ó Donnghaile, said that the plaques are a fitting tribute to the local men who gave their lives to Titanic. He said: "The hard work and industrial spirit of people from throughout the city brought the Titanic legend to life, right here in Belfast. The installation of nine bronze plaques brings both the pride and the tragedy of Titanic right into the local communities from where the men who built the great ship came. While the plaques commemorate nine individuals they symbolise the hard work and determination of 1000's more, without whom Titanic would not have been built. Along with the new Titanic Memorial Garden at City Hall, these plaques will act as a permanent reminder of those who lost their lives onboard Titanic."
Noel Rooney, Vice- Chair of Maritime Belfast added "We are proud to be associated with this tribute to the Guarantee Group. Belfast's maritime heritage is something to be proud of and by displaying the heritage plaques we are acknowledging all the hard work and Titanic endeavours by the people of our city, past and present".
There are nine plaques across the city:
North Belfast Leading hand Fitter, Robert Knight – Yarrow Street; Apprentice Joiner, William Campbell –  Earl Street; Apprentice Fitter, Alfred Flemming Cunningham – Spamount Street.
East Belfast Chief Draughtsman, Roderick Chisholm – Sandford Street; Foreman Fitter, Anthony Wood Frost – Sunbury Avenue; Apprentice Electrician, Ennis H Watson –  Madrid Street.
South Belfast Managing Director, Thomas Andrews – Windsor Avenue; Assistant Manager, Electrical Department, William H M Parr – Elaine Street; Apprentice Plumber, Francis Parkes – Agincourt Avenue.