Published: 7th September 2023
EXPLORE MORE AT THE BELFAST MARITIME FESTIVAL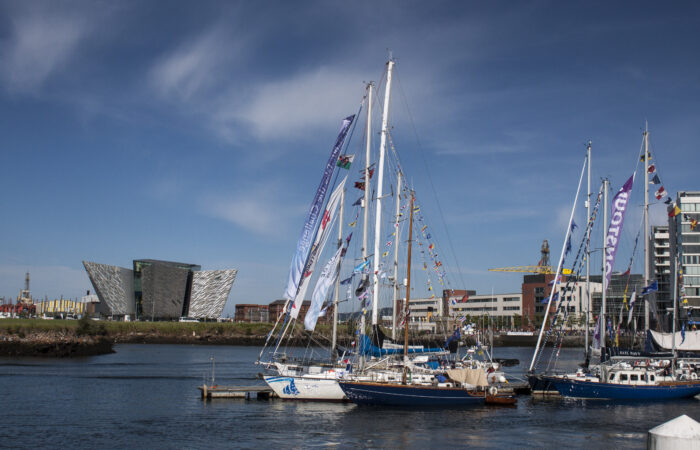 Set sail for the Maritime Festival this weekend (9th & 10th September) and explore more on the Maritime Mile, celebrating Belfast's rich maritime history with a host of free activities.
Maritime Belfast Trust,  the charity that preserves and promotes Belfast's rich maritime heritage, has been working with local waterfront neighbourhoods on a large-scale photographic exhibition, 'Back to the River-Maritime Mile through my lens'.  Visitors to the festival will be the first to see the exhibition located on Hamilton Dock, showcasing photographs taken by local community neighbourhoods of Belfast's historic waterfront, capturing what local residents love about the waterfront, and what makes them feel connected to the area.
As part of the festival there will also be the chance to see one of the last remaining SS Nomadic Lifeboat which will be on display beside SS Nomadic over the weekend.
Kerrie Sweeney, CEO of Maritime Belfast Trust said: "We are delighted to partner with Belfast City Council on the community co-design & outreach activity and excited to showcase the 'Back to the River-Maritime Mile through my lens' photographic exhibition.  We have worked with Belfast Exposed and more than fifty people from the local community groups including LORAG, EastSide and Sailortown, as well as local businesses along the Maritime Mile. This weekend is also the perfect opportunity to see an original lifeboat from the SS Nomadic, a unique piece of maritime history."
This weekend also marks European Heritage Open Days, and the opportunity to explore the historic Drawing Offices and heritage rooms in Titanic Hotel Belfast, discover the unique heritage of the iconic building and admire Belfast Titanic Society's display of Titanic-era costumes and hats. Also opening their doors for EHOD is St Joseph's Church, Belfast Harbour Commissioners Offices and Sinclair Seaman's Church.
To mark the weekend, Titanic Belfast, SS Nomadic, SoundYard, the Great Light and Belfast City Hall will all be lighting up blue.
The Belfast Maritime Festival has been organised by Belfast City Council and is supported by Tourism NI, delivered in partnership with Maritime Belfast Trust, Belfast Harbour, Odyssey Trust, the Department for Communities and Titanic Quarter Ltd.
For the full programme on the festival activities, go to visitbelfast.com
#ExploreMOREMaritimeMile #BelfastMaritime #EmbraceAGiantSpirit