Tall Ships: Festival of Maritime Heritage in the Drawing Offices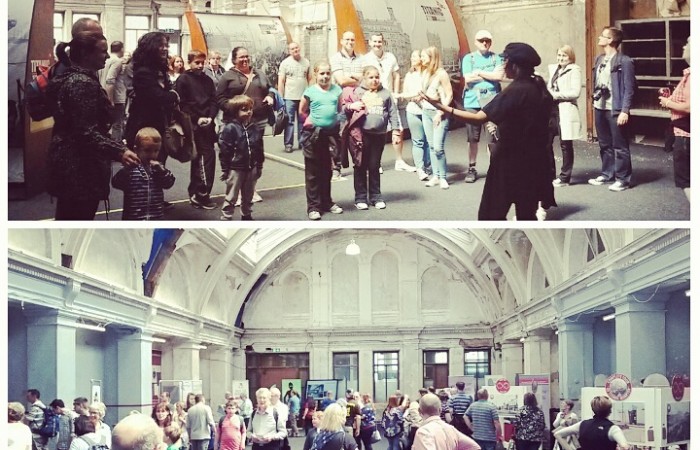 For this year's Belfast Titanic Maritime Festival, we opened the doors of the Drawing Offices for the duration of the event.
Drawing Office 1 was home to a range of local attractions and information points. Belfast Met were on hand with their new prospectus for full and part-time study; the Universal Sports Arena had information about all their various activities and ran free archery sessions in the sheltered yard between the two Drawing Offices; the Wee Tram had an exhibition on the history of the tram in the Quarter along with their initial prototype model on display; Titanic Belfast and the Public Records Office had information stands, and PRONI had a video guide on what they do running throughout the festival.
The Nomadic Preservation Society were also in the Drawing Offices all week to talk about their passion for the beautifully restored White Star tender SS Nomadic and share their plans for the future. And the Belfast Titanic Society brought along a range of items for the public to see including a huge catalogue of apprentice indentures and original tools used in the shipyard. The star of the show was undoubtedly the collection of Edwardian hats and costumes that would all have been worn in Titanic's era, which everyone was invited to try on.
We also had a small display of photographs of the rest of the building which is out of bounds to the public and floorplans for what the building used to look like in its busiest, and the hotel plans for what it will be developed into. Maritime Belfast staff were also on hand to answer any queries and chat to any former employees that called in.
In Drawing Office 2 the Titanic 100 exhibition was on display, which celebrates the photographic work of Robert John Welch who was the official photographer for Harland & Wolff for decades, capturing the construction of ships such as Olympic and Titanic. The full archive is available in the National Museum for Northern Ireland.
Both Drawing Offices were busy throughout the festival, with a steady stream of locals, visitors and former employees wandering through, trying on hats and admiring the beautiful architecture.
Maritime Belfast also ran a series of very popular free walking tours in conjunction with Titanic Walks, which took visitors from Titanic Belfast via the Drawing Offices and Slipways up to the stunning Thompson Dock and Pumphouse, which was where Titanic had her final fit-out and left Belfast from in 1912.