Published: 10th September 2023
Waterfront Neighbourhood Photo Exhibition launches at the Belfast Maritime Festival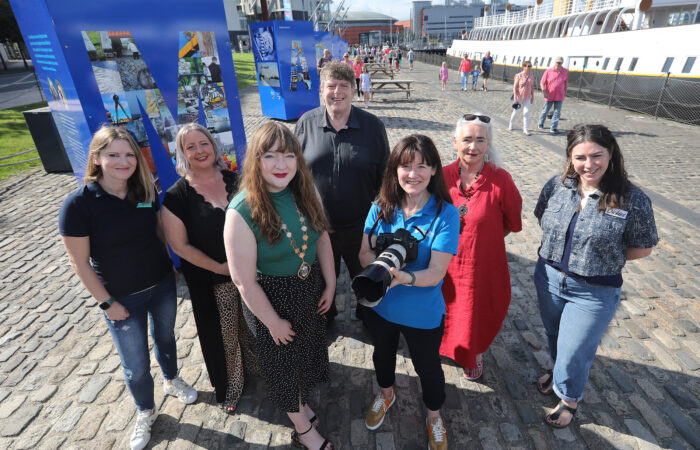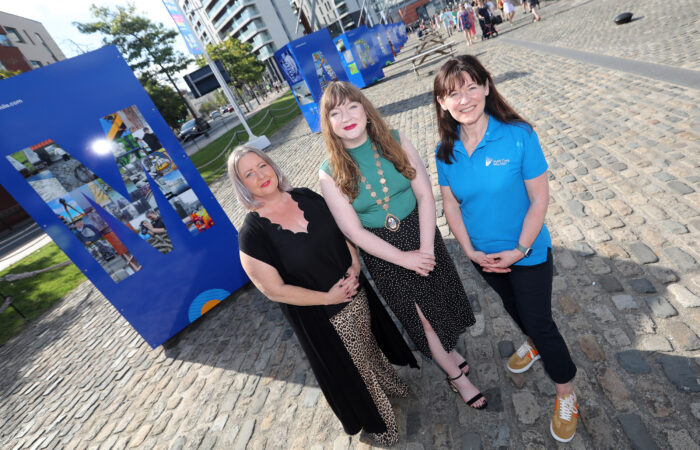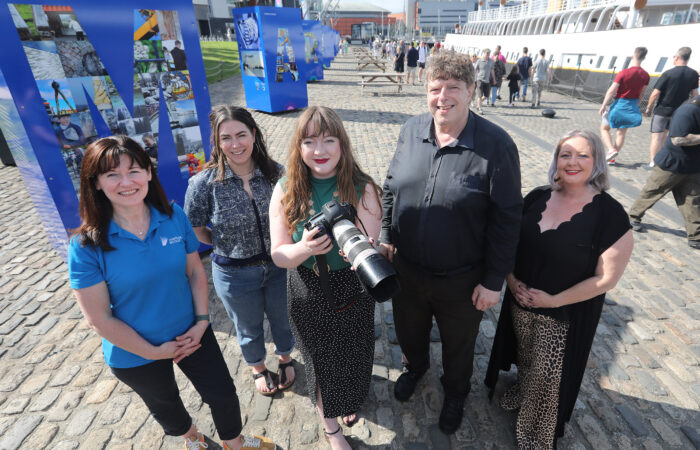 Maritime Belfast Trust, the charity which preserves and promotes Belfast's rich maritime heritage, has partnered with Belfast City Council to launch the Back to the River 'Maritime Mile through my lens' exhibition.   Based at Hamilton Dock near Titanic Belfast, the exhibition showcases photographs taken by local community neighbourhoods including Sailortown, Lower Ormeau, East Belfast and local businesses along the Maritime Mile.  The project, commissioned as part of this year's Belfast Maritime Festival (9-10th September), captures what local communities love about Belfast's waterfront, and what makes them feel connected to the area. The free exhibition will be in place until November.
 Kerrie Sweeney, CEO of Maritime Belfast Trust said: "Over the summer we worked with Belfast Exposed and neighbouring communities to create a dramatic photographic exhibition that captures people's relationship with Belfast's waterfront. We encouraged the groups to consider the waterfront through the lens of various themes from neighbourhoods to the Maritime Mile and wildlife, industry and looking to the future.
"Part of our mission is to promote Belfast's evolving waterfront and we hope that the exhibition will encourage people to explore the Maritime Mile and discover more about this fascinating part of the city."
Deputy Lord Mayor of Belfast, Councillor Áine Groogan, said: "We are delighted to support the Maritime Mile Through My Lens exhibition at Hamilton Dock delivered by Belfast Maritime Trust and Belfast Exposed.
"This exhibition has captured Belfast's rich maritime heritage through the eyes of local communities and neighbourhoods who have the privilege of enjoying our unique waterfront at their doorstep.
"It's a creative way of sharing and expressing their connection with their surroundings with the wider community as well as the many visitors who will be enjoying the activities at this year's Belfast Maritime Festival."
Siobhan McGuigan, Head of Events at Tourism Northern Ireland, said: "Tourism NI is a proud supporter of the Belfast Maritime Festival.
"The `Back to the River 'Maritime Mile through my lens' exhibition is just one of a host of wonderful events in the festival programme which showcases the rich maritime heritage the city has to offer.
"The tourism assets along the water have developed exponentially during recent years to provide a year-round waterfront visitor experience. This exhibition is sure to further awaken the giant spirit in our visitors and ignite their sense of discovery".
The Belfast Maritime Festival has been organised by Belfast City Council and is supported by Tourism NI, delivered in partnership with Maritime Belfast Trust, Belfast Harbour, Odyssey Trust, the Department for Communities and Titanic Quarter Ltd.
#ExploreMOREMaritimeMile #BelfastMaritime #EmbraceAGiantSpirit